Landscape theme construction landmark
constructionの詳細
Launcher theme Funsからリリースされた『construction』はアート&デザインアプリだ。apkfab.com/jpから『construction』のファイルサイズ(APKサイズ):3.1 MB、スクリーンショット、詳細情報などを確認できる。apkfab.com/jpではLauncher theme Funsより配信したアプリを簡単に検索して見つけることができる。現在、Landscape theme construction landmark appのダウンロードも基本プレイも無料だ。『construction』のAndroid要件はAndroid 4.0+なので、ご注意ください。APKFabあるいはGooglePlayから『Landscape theme construction landmark apk』の最新バージョンを高速、安全にダウンロードできる。APKFab.com/jpでは全てのAPK/XAPKファイルがオリジナルなものなので、高速、安全にダウンロードできる。
Want your phone being more interesting? Try Landscape theme construction landmark now that fits perfect on your android screen! One click to get a totally different phone!
If you don't like your phone home screen then just download the Landscape theme construction landmark and install it. This theme totally makeover your Android phone. This Launcher save your phone battery which help to extend your phone battery life.
Feel like something's missing on your home screen? Landscape theme construction landmark contains dozens of wallpapers which you can use for your backgrounds. It supports wallpaper replacement, you can replace any picture of your favorite flower or animal.
What can be changed with this Theme?
- Home screen background;
- Drawer screen;
- Menu screen;
- App icons;
- Folder icons
You also can DIY HD live wallpaper and change as you wish at any time in our launcher theme center and wallpaper center.
★ We have more holiday themes coming to celebrate happy festival theme, and We will provide you with thousands of various types of themes, like cute theme, cool tech theme, 3D, neon, fantasy, sport technology, nature flower theme, galaxy skin and so on. You can have all free themes and wallpapers.
How to apply this skin?
-Install the Landscape theme construction landmark
-Install the best android launcher
- Find your theme in the Mine of Theme Store
-Click Apply
Want More Launcher Themes?
No Problem. You can always find your favorite themes on 3D Launcher theme center.
Colorful theme:There are pink, red, yellow, lovely and romantic themes for cute girls. Blue, gray and black theme for business, tech and auto & vehicle fans. Colorful themes for cartoon and movie addicts.
Hobby Theme:Abstract themes and live wallpapers for art fans. Cute pets & animals for animal lovers. Football and basketball celebrities for sports fans. Greenery themes and nature flower themes for those who love nature.
And More:And the starry night theme for those who love stars. During holidays, you can find our beautiful festive themes when it's time to celebrate. There are also 3D themes, live wallpapers and other fashion elements to redefine your vision.
Worry about the compatibility with your phone?
The Landscape theme construction landmark is supported on variety Android smartphone models, including vibe k5 plus, k5 note, xiumi, kuawei and so on. All beautiful skins have been tested extensively and are compatible with 99% of the major Android devices! Enjoy a wonderful experience with our free Launcher themes.
Thanks for choosing Landscape theme construction landmark. If you found this beautiful theme cool enough, rate five stars and share it with your friends. You can find more launcher themes like theme for Honor 9i, theme for Galaxy On5, theme for phone 8, theme for ios 11 fans and so on in our launcher theme store. Your support will definitely inspire us to design more new themes! Your support will definitely inspire us to design more new themes!
construction 1.0.2 アップデート
smooth experience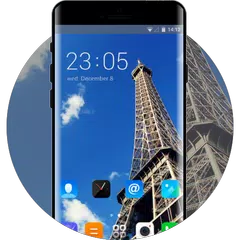 Landscape theme construction landmark
1.0.2
APK
Requires Android: Android 4.0+
Screen DPI: 160-480dpi
SHA1: ee8dfdb08faa46f10b3596e9a0ca0946d5e90694
Size: 3.1 MB
What's New:
smooth experience