Fanart Limit Breaker Vegeta Live Wallpaper
Fanart Vegeta Limit Breaker Wallpaperの詳細
🔷 Anime Hubからリリースされた『Fanart Vegeta Limit Breaker Wallpaper』はアート&デザインアプリだ。apkfab.com/jpから『Fanart Vegeta Limit Breaker Wallpaper』のファイルサイズ(APKサイズ):5.96 MB、スクリーンショット、詳細情報などを確認できる。apkfab.com/jpでは🔷 Anime Hubより配信したアプリを簡単に検索して見つけることができる。現在、Fanart Limit Breaker Vegeta Live Wallpaper appのダウンロードも基本プレイも無料だ。『Fanart Vegeta Limit Breaker Wallpaper』のAndroid要件はAndroid 4.0.3+なので、ご注意ください。APKFabあるいはGooglePlayから『Fanart Limit Breaker Vegeta Live Wallpaper apk』の最新バージョンを高速、安全にダウンロードできる。APKFab.com/jpでは全てのAPK/XAPKファイルがオリジナルなものなので、高速、安全にダウンロードできる。
this Fanart VEGETA super sayajin DBS limit breaker and Dragon bal dbs Z live wallpaper show amazing animation of vegeta new form with low battery consumption.
Lets install an amazing anime wallpaper DBZ and Dragon Ballsuper - Ultra instinct goku live Wallpaper. VEGETA power up with Ultimate Super saiyan God Super Saiyan.
This wallpaper contains digital art of vegeto doing super genkidama and trunks-broly doing full SSJ blue ( full super saiyan blue )
this wonderful DBallSuper live wallpaper, if you are fan of Dragon bal Super you must install this, because this very amazing, Super ball fusion Goku - Vegeta Super Saiyan blue output an amazing aura with aura blue, yellow, red like jiren , and other. you must try it.
you can set different live wallpaper up to 20 Vegeto Gogeta Ultimate Super Saiyan Live Wallpaper.
this contains SonGoku SSJ Ultra instinct Live Wallpaper that fit perfectly with your background's phone where it looks you have dragon Super ball Goku Saiyan Spirit Ball output an amazing aura with aura blue, red , and other in background. you must try it.
and you can set animation speed, fps, and graphic quality.
all live wallpaper is just goku super limit breaker and use spirit bomb. you can't see teengohan,gohan,krillin,muten roshi,goku,picollo,frieza,tien, jiren ,kakarot,gotenks, gogeta,vegeto,beerus and, kefla,whis, yamoshi, zeno, grand priest other z fighter.
Do you know the newest episodes of the new warrior super saiyan? its not dragom ball songoku ultra instinct, but fusion from kale and caulifla.
this amazing app has develop by King goku, and credit thanksfull to members of deviantart who makes an amazing digital art and artwork of Goku and the best anime with butoden, vegeta doing final flash and galick gun, beerus destroying enemies with hakai, super sayajin making fusions with potara earrings and other forms rival is it Vegeta and his fusion to Vegeto Gogeta super saiyan jin blue.
DISCLAIMER:
This app is made by DBZ fans, and it is unofficial. The content in this app is not affiliated with, endorsed, sponsored, or specifically approved by any company. This app is mainly for entertainment and for all DBZ fans to enjoy these dragon ball Wallpaper.
Fanart Vegeta Limit Breaker Wallpaper 1.0 アップデート
- NEW FORM and Vegeta's NEW POWER illustrated in wallpapers !
- Heavy Goku and Vegeta wallpapers together as a TEAM !
* Tell Us by comment the name of the form that you love and we will added immediately a wonderful wallpaper of it made by awesome people *
Fanart Vegeta Limit Breaker Wallpaper 特徴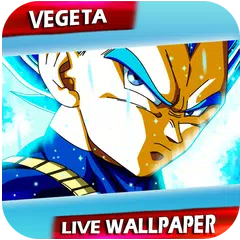 Fanart Limit Breaker Vegeta Live Wallpaper
1.0
APK
Requires Android: Android 4.0.3+
Architecture: arm64-v8a, armeabi, armeabi-v7a, x86, x86_64
Screen DPI: 120-640dpi
SHA1: ba499df94c13b71dec430e035ac5718c3b107f1a
Size: 5.96 MB
What's New:
- NEW FORM and Vegeta's NEW POWER illustrated in wallpapers !
- Heavy Goku and Vegeta wallpapers together as a TEAM !
* Tell Us by comment the name of the form that you love and we will added immediately a wonderful wallpaper of it made by awesome people *
追加情報
Android要件:
Android 4.0.3+